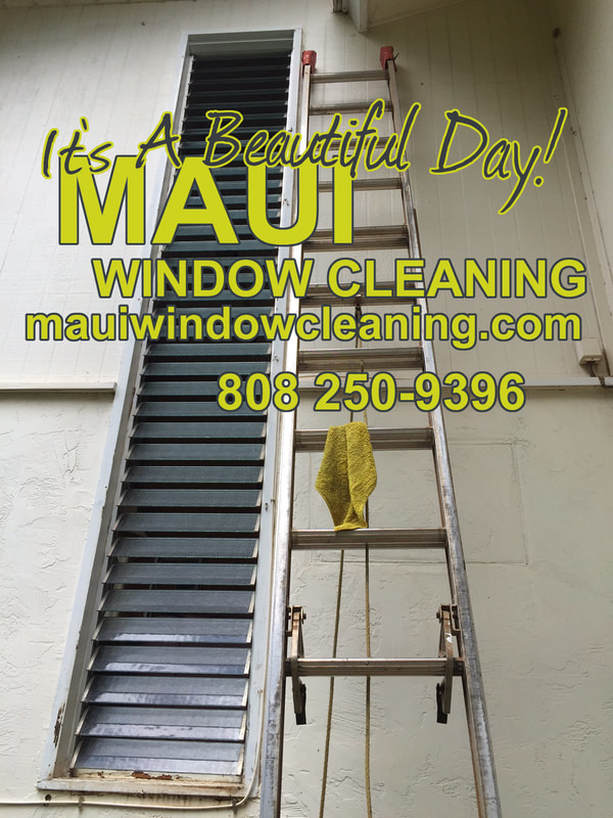 MAUI WINDOW CLEANING
Let the Sun Shine In! Aloha Maui.
Welcome to
Maui Window Cleaning, Inc.
Whether you live on the cool mountain slope of Kula or have a business in bustling Kahului, we're equipped to clean your windows and solar panels. We are a full-service, window cleaning, Solar Panel cleaning and pressure washing business. Details like Screen and track cleaning are always included in our standard window services. To arrange a complementary estimate or schedule a service, call or text 808 250-9396.
Our ESTIMATES are always
in writing
and the invoice amounts are always exactly what we
promise. And we're insured. We've been serving Maui for over 14 years. Thanks Maui!
A Good Window Cleaner Is A Conscientious Person
Treating other people's homes like we would like other people to treat our home is a valuable principle and here at Maui Window Cleaning we live by it! We start thinking about your property before we ever arrive. We maintain our window cleaning vans to ensure that no oil leaks spot your beautiful concrete driveway. We work as quietly and as discreetly as possible so you can go about your day without distraction. But we also work efficiently so as not to be on the property any longer than necessary. We minimize window cleaning drips and runoff coming in contact with flooring, countertops, and furniture by liberally utilizing freshly laundered cotton drop-cloths and towels, because good window cleaning starts with a conscientious person.
We service properties island-wide including, Upcountry, Makawao, Pukalani, Kula, Haiku, Paia, Wailuku, Kahului, Kihei, Wailea, Lahaina, Napili, Honokawai, Kaanapali, and Kahana.
We've Got Your Window Coverings Covered!
We know as a homeowner that you often put much time and expense into your blinds and window coverings. At times these fixtures can pose a real challenge for accessing the window glass for cleaning. Maui Window Cleaning takes great care to treat blinds and window coverings gently. Because some drapery surfaces are absorptive in nature, we'll even use gloves to ensure we don't soil those satin surfaces. Some drapes and blinds have wall mounts that are especially delicate and easily misaligned. Our handling your precious possessions with care and intelligence can save you frustration and us. One more way Maui Window Cleaning has got you covered.
Solar PhotoVoltaic Panel Cleaning
Our regular
Solar Panel Cleaning service
includes our De-ionized water-fed pole treatment. It's safe, allowing us to clean without risk of damaging fragile PV (PhotoVoltaic) panel glass, especially in hazardous, hard-to-reach configurations. Our process increases long term PV efficiency because it leaves no cleaning residues that could cloud panel glass with calcification and hard water spots. Give us a call.
We do it all; Residential, Commercial, Solar Panels, High Work, Screens, Detail,
Insured,
Jalousie/Louvered glass, Skylights, Mirrors, Water-fed poles, Pressure washing, Gutter cleaning, Cobweb removal, Chandeliers, Ceiling fans, and more.
Ask us about our
security sensitive properties
service..
MAUI WEATHER
It's a Beautiful Day but if you're concerned about the weather,
Click Here
for a local forecast. Or to see a Hawaiian Island weather loop
Click Here
.
For a Central Pacific loop
Click Here.
Rich The Window Cleaner Maui says, "A Beautiful Day Is Attitude Through a Clean Window!"
Maui Window Cleaning Inc.
136 Mahola Street
Makawao, Hawaii 96768
rich@mauiwindowcleaning.com
808 250-9396
Rich the Window Cleaner is located upcountry with island-wide service. To See Maui Window Cleaning reviews
Click Here from a Laptop
or
Here With a Mobile Device
.
All material copyrighted 2012.
Ask about our Coupon Mailers!